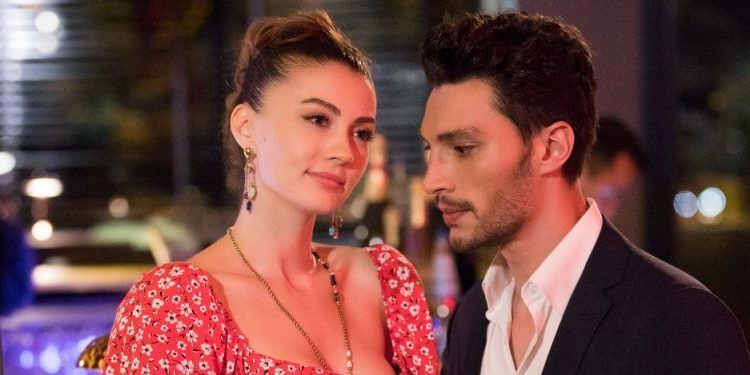 Esra (Burcu Ozberk) is a beautiful girl who wants to marry a man who has a steady job. Her family has always struggled with financial difficulties due to her father's business failures. In order not to have financial problems throughout her life, Esra makes a reasonable choice and decides to get married to a man who has a steady job.
Ozan (Ilhan Sen) is an engineering genius who lives in the same neighborhood where Esra lives. He has been in love with Esra since his childhood. He has a potential to have a steady job and provide a comfortable life for his bride. For this reason, he becomes Esra's target.

Esra and Ozan get married and start to have a comfortable and stable life until the day Ozan quits his steady job. Ozan wants to develop a new software, realize his dreams and start his own company. While dreaming of becoming a housewife and having a comfortable life, Esra finds herself in a difficult position. She eventually starts to suffer from financial and moral difficulties in the marriage.
Esra becomes the sole bread earner in their marriage while Ozan bounces from one bankruptcy to another. She shoulders all the financial burden, works in various jobs and struggles to keep them afloat. Frustration and exhaustion force her to get a divorce.
When Esra suffers a miscarriage from the stress of being the sole bread earner, she decides not to continue her marriage. Without telling anything about her miscarriage, she files a divorce case after a couple of years of marriage. She does not give another chance to Ozan and even says that she has never fall in love with him.
Eventually the two get divorced. Esra returns to her parents' house and starts to work as a waitress. Ozan, on the other hand, finds a financial support for his software application and gets an opportunity to start his own company Milenyum Soft. Ozan eventually transforms from a loser into a successful CEO. He is now successful, rich and handsome guy.
2 years after the divorce, Esra discovers that Ozan has become a successful businessman. While she has neither a successful career nor a marriage, her ex-husband enjoys a wealthy life.
Esra expects to get an apology for her sufferings in her marriage. She just wants an acknowledgement for what she has done to financially support her family throughout her marriage. However, when she comes across Ozan, she becomes so surprised due to Ozan's attitude.
Ozan acts too arrogant and cold. He never forgives Esra for leaving him behind. He thinks that Esra is trying to contact with him because he has become wealthy. For this reason, he wants to give her money and makes it clear that he does not want to see her anymore.
Esra gets so angry with Ozan's attitude. She decides to get her revenge. She just wants an apology and acknowledgement for what she has done throughout her marriage. In order to do that, she will does anything to make Ozan fall in love with her again.
Esra decides to win Ozan back through becoming an intern at his company. By this way, she would be able to see him anytime. She applies for an internship position at the advertising department at Milenyum Soft.
The story becomes too complicated when Ozan's close friend Cinar (Burak Yoruk) also starts to work as an intern at Milemyum Soft and gets along well with Esra. Ask Mantik Intikam English Subtitles are also available for viewers outside turkey.